Goods classified as dangerous for ocean shipment require appropriate labeling, packaging, and declaration procedures based on their class and UN number.
In some destinations, confirming loading onto the vessel may require some time. With JET8's dangerous goods ocean shipment services, we provide one-stop support for all the complex procedures, necessary documentation preparation, booking, customs clearance, and loading onto the ship.
Full Support by Dedicated Operators
In addition to the standard documents required for ocean shipment of regular goods, dangerous goods shipping necessitates additional documents specified by the International Maritime Organization (IMO), such as Safety Data Sheets (SDS) and dangerous goods container inspection certificates, as well as labeling.
※About the International Maritime Organization (IMO)
Established by the United Nations in 1958, IMO is a specialized agency dedicated to promoting international cooperation on various maritime issues, including safety at sea, response to maritime accidents, and prevention of marine pollution. The International Maritime Dangerous Goods (IMDG) Code, which regulates the container packaging, stowage, and documentation for the movement of dangerous goods by sea, is part of IMO's rules for hazardous materials shipped by sea.
Labeling According to Classification of Dangerous Goods
We will provide labeling in compliance with IMO regulations. Whether it is labeling on containers or labeling on individual item packaging, we can accommodate both.
We offer IMO labels, UN labels, and Proper Shipping Name labels.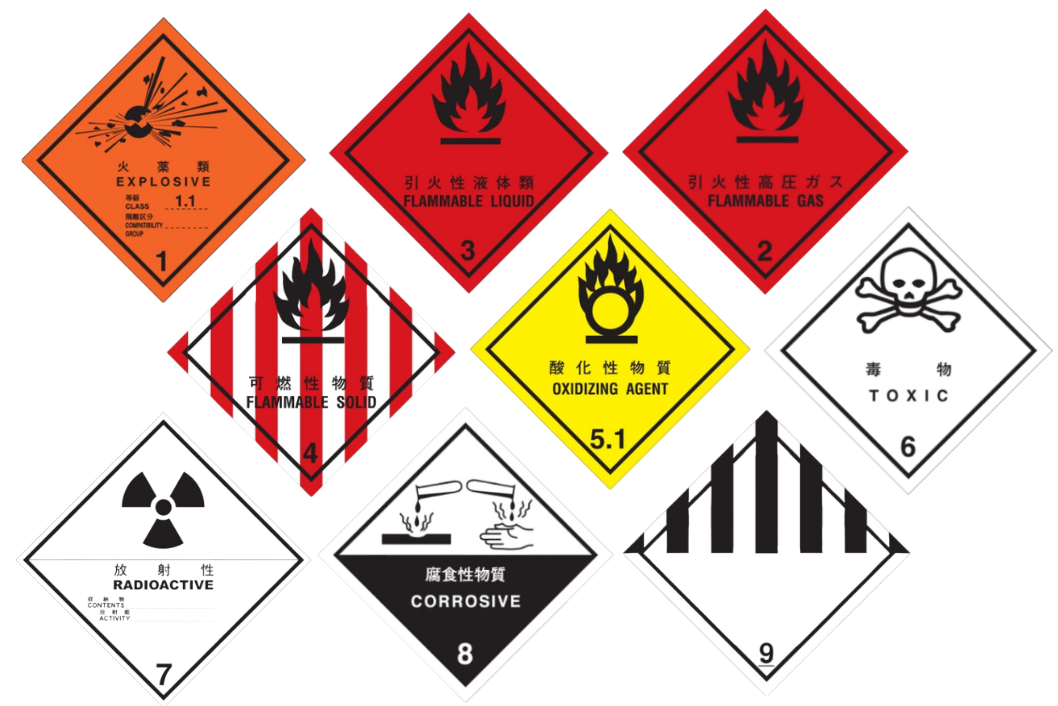 Additionally, please feel free to consult with us regarding case marking after palletization and the addition of special labels based on local instructions.
Handling the Preparation of Dangerous Goods Documents
We provide comprehensive document preparation services, starting from pre-loading verification procedures with the shipping company to the creation of red labels and white labels (pre-advice forms).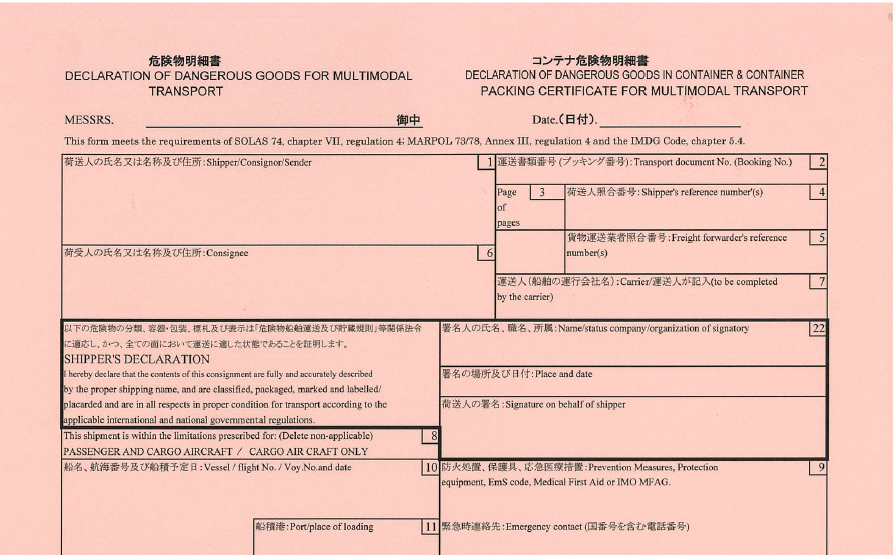 We assist in planning your transport based on thorough research, including confirming regulatory requirements for imports and exports, as well as assessing local developments and infrastructure conditions related to domestic transfers."
Label
Category
Name
Example
Class 1
Explosives
Smoke signal lights, practice rounds, etc.
Class 2
Compressed Gases
Flammable Compressed Gases
Non-flammable, Non-toxic Compressed Gases
Toxic Compressed Gases
Spray cans, refrigerants, refrigeration equipment, etc.
Class 3
Flammable Liquids
Gasoline, alcohol, adhesives, etc.
Class 4
Flammable Substances
Flammable Substances
Spontaneously Combustible Substances
Water-Reactive Flammable Substances
Metal Catalysts
Class 5
Oxidizing Substances and Organic Peroxides
Hydrogen Peroxide
Methyl Ethyl Ketone
Sodium Chlorate, etc.
Class 6
Toxic and Infectious Substances
Mercury, viruses, fungi, etc.
Class 7
Radioactive Materials
Plutonium, etc.
Class 8
Corrosive Substances
Acids, alkalis, batteries, etc.
In addition to the documents and labeling specified by IMO, there are cases where specific documents and labeling are required by the destination or the shipping company. Thorough preparation is essential to avoid any oversights.
Inaccuracies in documentation and labeling can lead to issues such as last-minute loading denials or troubles during customs clearance upon arrival at the destination. This can result in demurrage (excess storage fees) and detention (container return delay fees).
At JET8, our experienced dedicated operators provide support for the preparation of transport documents and dangerous goods declarations. We can guide you through the process, and our single point of contact makes communication with the shipping company and destination straightforward.
We can arrange special routes and containers!
One of JET8's strengths in handling dangerous goods by sea is our ability to facilitate the movement of cargo that may be challenging to arrange with major forwarders. We provide guidance on multimodal plans that combine land, air, and sea options, ensuring the most suitable mode for your needs.
Regardless of whether it is regular services or spot shipments, we can create a unique maritime solution exclusively for you.
Special Container Arrangements
Reefer Container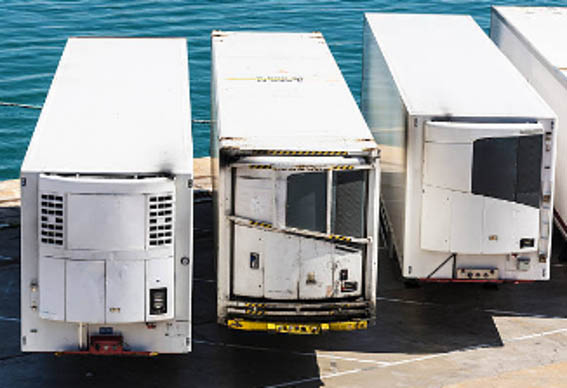 ISO Tank Container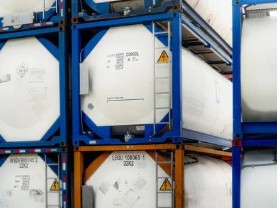 In addition to arranging maritime shipments, we can also arrange inland transfers within Japan, right up to the Container Yard (CY).
If you have cargo that falls under the Japanese Fire Service Act or requires low-temperature storage, please do not hesitate to contact us.
Dangerous Goods LCL
Depending on the class, we can also arrange for the consolidation (LCL) of dangerous goods. We can provide guidance on palletization and case packaging as well. If you have a smaller quantity of dangerous goods that does not fill an entire container, please reach out to us.
*Dangerous Goods LCL arrangements will depend on the destination and cargo specifics. Please inquire for details.
*For urgent small shipments, consider utilizing our air freight dangerous goods transportation services as well.
Regulatory Investigation Support
For transportation challenges that other companies may have declined, such as areas like the following, please entrust them to JET8!
For the Middle East
 (Saudi Arabia, UAE (Dubai), etc.)
For Asia
(Myanmar, Thailand, Bangladesh, etc.)
For China 
Through our local subsidiaries and agents around the world, we can assist with regulatory investigations and provide various routing and scheduling options.
If you can provide us with the commodity name, packaging, quantity, and the origin and destination of the cargo you are considering for shipping, we can promptly provide you with information. Please feel free to contact us for inquiries.